The cloth diaper specially designed for the newborn baby
Elskbar's Natural Newborn cloth diaper is designed specifically for newborn babies. It fits perfectly in size on the small baby bum, it has a soft and absorbent insert of bamboo and it is easy to use for new parents. That's exactly what's most important when the little baby is using cloth diapers.
Especially for this diaper are the double leg gussets, which are extra good for keeping the liquid poop inside. There's nothing that's going to get out of this diaper.
You can wrap your newborn baby in Natural Newborn from day one and the first two months (approximately 2.5 kg to 6 kg), depending on your baby's proportions.
Elskbar Natural Newborn is an AIO-diaper, but our clever insert can be unsnapped, which shortens the drying time significantly. The entire diaper needs to be washed after use, as the diaper shell has a built-in absorbency and gets wet.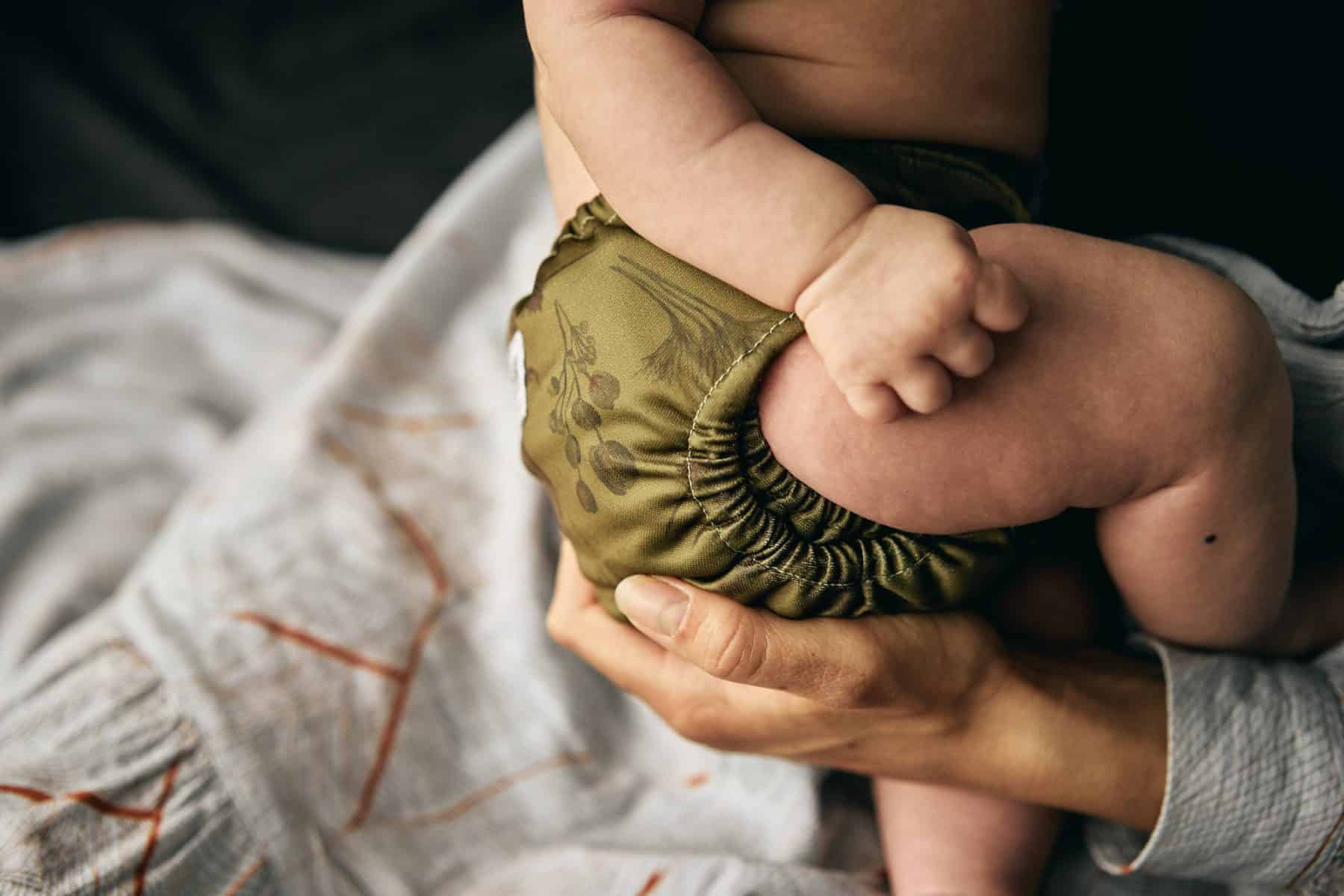 Customize absorbency to your baby's needs
Natural Newborns insert is made of three layers absorbent and soft bamboo terry. Your baby will get really soft materials against the delicate and fine skin. The insert measures 27 x 25 cm and can be folded three times for a full 9 layers absorbency. You can also choose to fold the insert once, thus achieving an even smaller cloth diaper bum.
Being able to fold the insert in many different ways allows you to customize the absorbency to suit you and your baby's needs.
You can choose to purchase extra inserts for your newborn diapers. Then you always have more inserts than diaper shells in circulation and this can help reduce the drying time.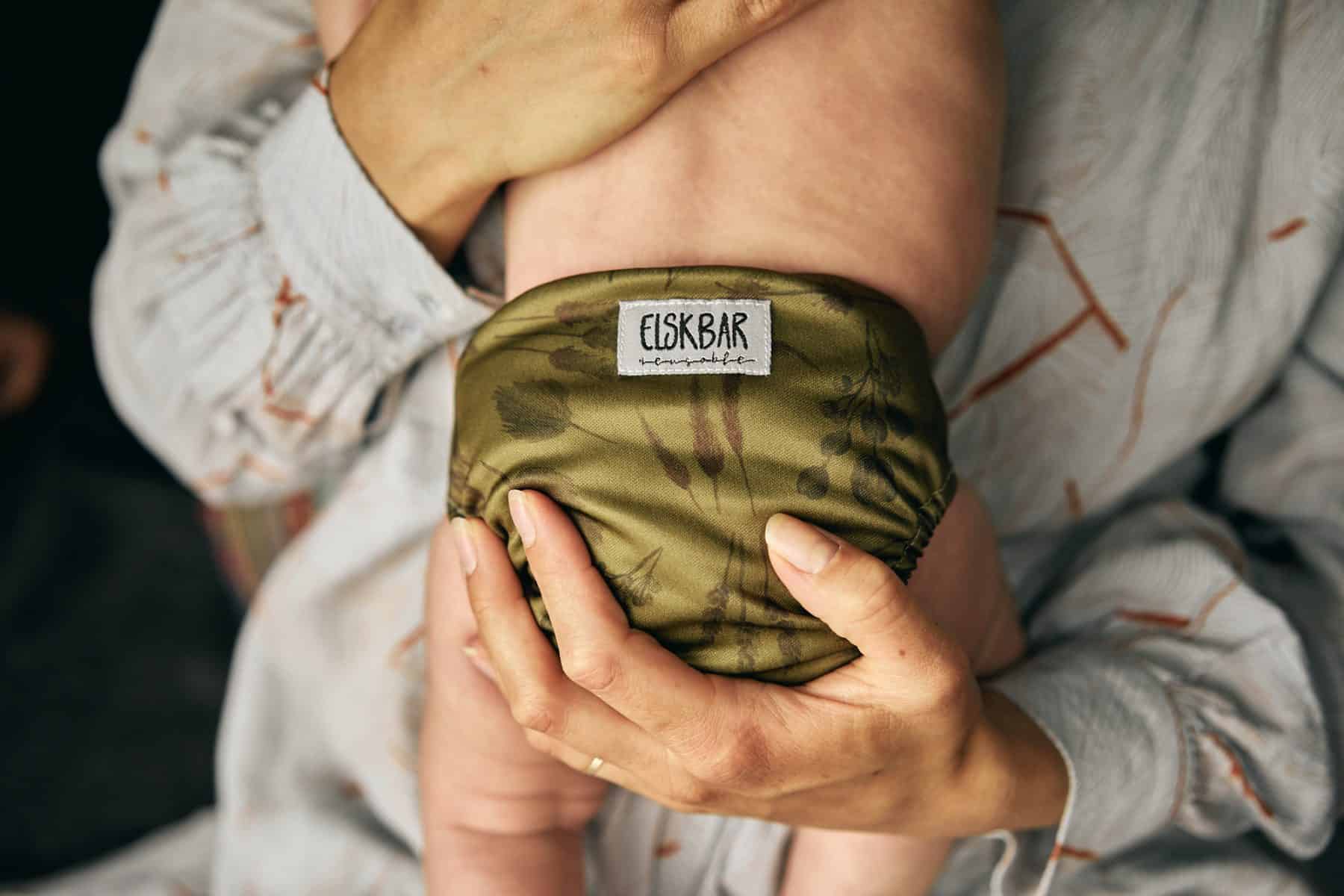 Really simple
A newborn baby makes a lot more poop and pee than you think. It takes a lot of trips to the changing table – up to 10-15 times a day. Therefore, it is important to have cloth diapers that are easy to use, so that your time and energy can be spent recovering from the birth and giving your baby plenty of love.
Natural Newborn is very simple to use. It has a single insert that snaps into the diaper shell and then it is ready for use. You only need to wash and dry and then it is ready to use again. It's really easy.
You need about 27 cloth diapers for the newborn baby if you want to use them full time. Read more in our guide – How many fabric diapers do you need?
Specifications
Diaper shell
Outer material

100% polyester with TPU laminate

Inner material

85% bamboo
15% polyester
Insert
Material

85% bamboo
15% polyester
Washing instructions
Wash
How to wash a cloth diaper

The entire diaper should be washed after use. You need to snap out the insert before washing. The diaper has to be washed at max 60 degrees with a cold prewash. Poop from newborns are water-soluble and therefore do not need to be removed before washing. Avoid detergents containing fabric softeners, optical brighteners, or chlorine bleach.

See detailed washing instructions for cloth diapers.
Drying
How to dry a cloth diaper

We recommend hanging the insert for drying, but you can dry it in the dryer on low heat if necessary. The waterproof diaper shell, on the other hand, may not dry in the tumble dryer, as the heat can damage the waterproof TPU coating and shorten the life of the rubber bands.

See detailed guide to drying cloth diapers.